From the Alamo to the Missions, San Antonio is a city steeped in rich history. We are proud of our heritage and offer plenty of tours, museums, attractions and more where visitors can learn more about what it took to make San Antonio the modern city it is today.
---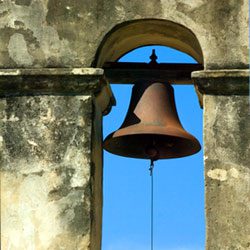 One of San Antonio's greatest assets is the way that the city not only incorporates but embraces itshistory. Museums, restaurants, retailers and more celebrate all the ingredients that have combined over the years to give San Antonio the flavor it has today.
Although most people immediately think of the Spanish heritage of San Antonio, the city actually began as a home for the Native American people who settled along what is now the San Antonio River. It wasn't until June 13, 1691 that a group of Spanish explorers and missionaries came across the tribes and their land and named the area and the river San Antonio in honor of the feast of St. Anthony, which took place that day.
The first mission, San Antonio de Valero and the community of San Antonio de Bexar were established by the Spaniards along the banks of the San Antonio River in 1716. Other missions and communities followed before several combined to form the community of San Antonio.
Downtown San Antonio, TxIn 1793, due to secularization, many of the San Antonio mission buildings were abandoned and the community of San Antonio emerged as the prevalent Texas settlement governed first by Spain and later by Mexico.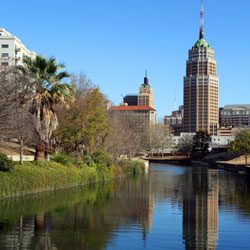 San Antonio became a city in 1809 and was temporarily released from under the Spanish rule during the Mexican War for Independence in 1812. But the turning point came with the Texas revolution and the Texas troops taking possession of San Antonio before losing it again in the famous Battle of the Alamo. Texas went on to prevail, however in the final Battle of San Jacinto and, in 1837, San Antonio became the seat of Bexar County.
Over the years, San Antonio has experienced major growth and change. The city boasted the largest population in Texas in 1860 and today it is the second largest city in the state with more than 1 million residents calling the Alamo City home.