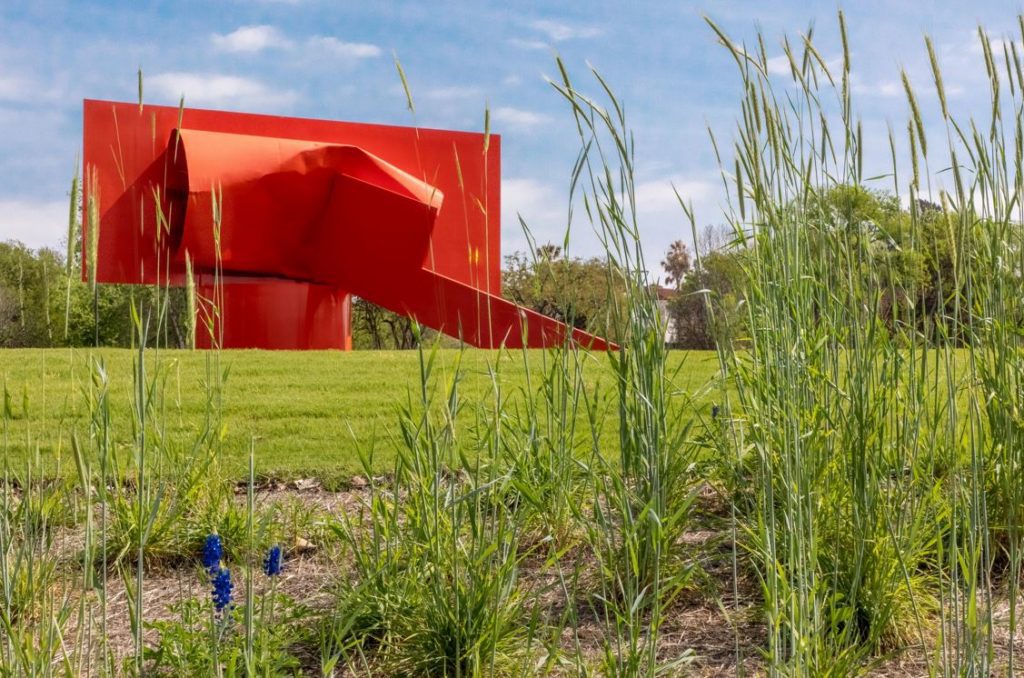 McNAY ART MUSEUM CELEBRATES COMPLETION OF $6.25 MILLION LANDSCAPE TRANSFORMATION
The McNay Art Museum has announced the completion of Phase I of its multi-phase Landscape Master Plan. This first chapter enhances the McNay's outdoor experience with new sculpture, reimagined fencing, sustainable landscaping, and increased accessibility—affirming the McNay as San Antonio's place of beauty and belonging.
"The McNay is proud to realize a vision first introduced in 2004 by former McNay Board Chairman, Tom Frost, McNay Director Emeritus, William J. Chiego, and a forward-looking team of Trustees and staff who saw where cultural institutions around the world were headed," said Richard Aste, McNay Director and CEO. "We are already seeing the positive impact of a more inclusive, open campus on our community, and we're just getting started."
Dense hedges along the edge of the property have been replaced with see-through fencing and native drought-resistant plantings to increase the visibility of the Museum and grounds from the street. One hundred forty-two new trees and 7,892 shrubs, ornamental grasses, and perennials across 40 species of native and adapted plant material were introduced throughout the grounds. Plant species include Bald Cypress, Texas Redbud, Palo Verde, Sweet Acacia, Dwarf Yaupon, Upright Rosemary, Yucca, Mexican Feathergrass, Sage, and more. A Beautification Fund chaired by McNay Trustee Amy Stieren was generously raised to ensure all plantings are maintained for the next five years.
Two acres of greenspace that previously existed at the intersection of Austin Highway and North New Braunfels now connects to the grounds, extending the Museum's footprint from 23 to 25 acres. Known as the Mays Family Park in honor of the generous $2 million lead gift from the Mays Family Foundation, this additional area now offers a dynamic, 360-degree viewing experience of the monumental sculpture, Ascent, by Alexander Liberman.
Building on the campus-wide commitment to diversifying the Permanent Collection and activating the grounds as outdoor galleries, the McNay installed four new sculptures over the last two years: The Sole Sitter by Willie Cole, Standing Tulip by Tom Wesselmann, Hashtag-Orange by Alejandro Martín, and Deer by Tony Tasset. The stainless-steel Victoria sculpture by Philip Grausman was relocated to the Museum's renovated Austin Highway entrance.
Both campus entrances were reimagined with new entry and exit gates, enhanced signage, improved lighting, and wider roads that create an easier and safer two-way traffic flow. The Austin Highway entrance is now the Russell Hill Rogers Sculpture Gateway, and visitors entering the campus from North New Braunfels now drive in on Tom Frost Way in honor of the McNay's late Board Chairman.
"This moment honors the legacy and spirit of my father and his vision for what this beloved institution could become," said Don Frost, President, McNay Board of Trustees. "The support for the first phase of this ongoing project has been strong, and it reflects the commitment of our Trustees and major donors to bringing transformational art experiences to our entire community."
The McNay is grateful for additional major funding of $1 million from the Kronkosky Charitable Foundation; $500,000 from the Frost Family and Frost Bank; and $500,000 from the Semmes Foundation, Inc. for this important project.
The Museum would also like to thank landscape architects Michael Van Valkenburgh Associates, Inc. for their initial vision for this master plan as well as our Texas partners: San Antonio architects Ford, Powell & Carson; Austin urban landscape architect dwg.; and San Antonio construction firm G.W. Mitchell for their help in making this moment possible.
Phase II of the Landscape Master Plan is in development, and updates will be shared when available.
The post McNay Completes Phase 1 in Landscape Master Plan appeared first on SA Arts.
Source: https://saarts.com/mcnay-completes-phase-1-in-landscape-master-plan/