Shopping in San Antonio is an eclectic treat! Here you will find everything from kitchy souvenirs to fine jewelry, couture fashion, unique home furnishings and everything in between. San Antonio is proud to feature some of the most high-end names in the retail clothing industry including Saks Fifth Avenue, Neiman Marcus, Nordstrom and Tiffany & Co. In addition to these heavy-hitters San Antonio boasts numerous local boutiques ranging from high-end fashion to local flare. Whatever you want, whatever you need, you can find it in San Antonio.
---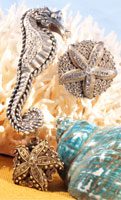 Allen & Allen
Jewelry is no longer just for the cocktail hour. Grace your fine furniture quality cabinetry with stunning jewels for everyday use. Visit Allen & Allen Company today to see for yourself.
202 Culebra Rd (210) 733-9191 www.lumberhardware.com
---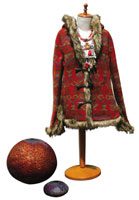 Angelita
Fall for the romantic Southwest in your very own blanket designed jacket. Treasure necklace of antique stamps, coral, lapiz and sterling, an Angelita in-house design. K.C. King award-winning RAKU.
418 Villita (in historic LaVillita) (210) 224-8362
---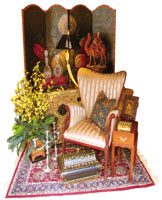 Bygones of Castle Hills
With over 7,000 square feet, Bygones is a real treasure trove of upscale consigned furniture, with new arrivals daily! Went to consign? We preview and pick up at no cost to you. Bargains from some of the finest homes in SA make Bygones "the fun place to shop!"
Corner of NW Military and West Ave. (210) 348-1919
Visit our original store: 3615 Broadway (210) 828-1424
---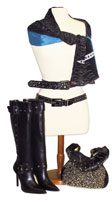 Caliente Harley Davidson
Classic Harley Davidson styling commands the ultimate accessories. Leather boots are custom-made with lots of attitude — perfect when paired with this 100 percent silk scarf, leather "Brilliance Handbag" and a fab leather belt with crystals or cool studs.
7230 NW Loop 410 (210) 681-2254
---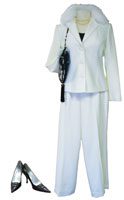 Encore for Women
San Antonio's unique resale shop, offering the latest trends in consignment clothing. Come see this season's fabulous selections. Pictured: a LInda Allard/Ellen Tracy winter white pantsuit with an accent fur collar, black silk Saks 5th Avenue tank, purse by Mary Frances, and Dolce and Gabbana shoes.
Open Mon – Sat from 10am to 4 pm 1931 NW Military Hwy #101 (210) 341-0939
---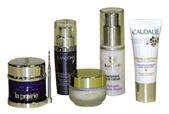 Julian Gold
Discover the wonderful world of eye cream. Eyes show age first. Wake them up — experience moisture and replenishment with our assortment of creams. Products geared to specific needs, ages and worries. Maximum hydration to the latest anti-aging breakthroughs to the ulitmate in luxury… caviar. "For Your Eyes Only" event, Sept. 18, 19 and 20. Book consultations now!
4109 McCulough (210) 824-2493
---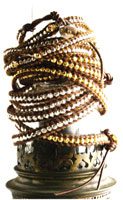 Kathleen Sommers
Leather wrapped bracelets with gold and silver nuggets. See more of Chan Luu's remarkable designs at Kathleen Sommers. View the full jewelry line at our Chan Luu Trunk Show on Sept. 25 (10am – 6pm). Kathleen Sommers, located in the heart of Monte Vista, carries an elegantly eclectic mix of clothing, accessories, gift and bath products.
2417 N. Main Street (210) 732-8437
---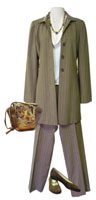 Otra Vez Couture Consignment
Shopping consignment is not a secret anymore. It's smart and green! At Otra Vez, you can put together an outfit like this for a fraction of the cost of something new. How cool is that? Located in Olmos Park, Otra Vez carries new, resale and some vintage designer women's fashions, accessories, jewelry,shoes and handbags. This outfit combines Ellen Tracy, Ferragamo and a vintage Morris Moskowitz handbag.
134 W. Olmos Drive (210) 826-0606
---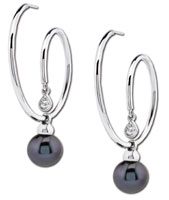 Penaloza and Sons
Tied up with back to school? Unwind and reward yourself. South pearls and 18 kt white gold.
2001 NW Military Hwy. (210) 340-3536
---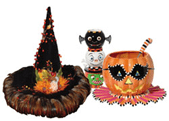 Saturday Market
Mirror, mirror! Celebrate your inner witch with these fantastic couture hats from Michael's Garden, exclusive to Saturday Market! You'll also find a unique selection of Fall and Halloween home décor and servewear – and, of course, our signature silk floral arrangements.
4704 Broadway (210) 731-9525
---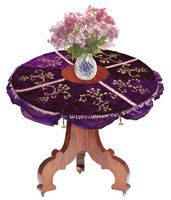 Synaida
Handmade decorative table-coverings for weddings, formal gatherings, banquets and family affairs. Just use your imagination — I'll make them for any occasion! Accented with glass and acrylic beaded designs, fabulous jewels and more. All hand-stitched on a lovely crushed velved fabric. Made to order. Sizes 36 inches round and up.
For more information, please call Cindy (210) 550-3352
---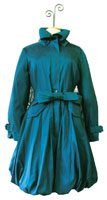 Texas Lady
A classic design with a twist! Bubble trench coatdress featuring water-resistant stretch fabric with a pleasant sheen, front zipper closure accented with silver snaps, full-length sleeves with cuffs, two decorative front pockets, oversized fold-over collar that beautifully frames the face, princess seaming and adjustable waist tie. Fully lined. Stunning with slim-legged pants or leggings. Colors: teal (shown), black, cigar, slate, green, hot pink, white. Sizes: Small – XL. True retail therapy for every Texas lady! $159.95.
18720 Stone Oak Parkway, Suite 115 (210) 494-9922