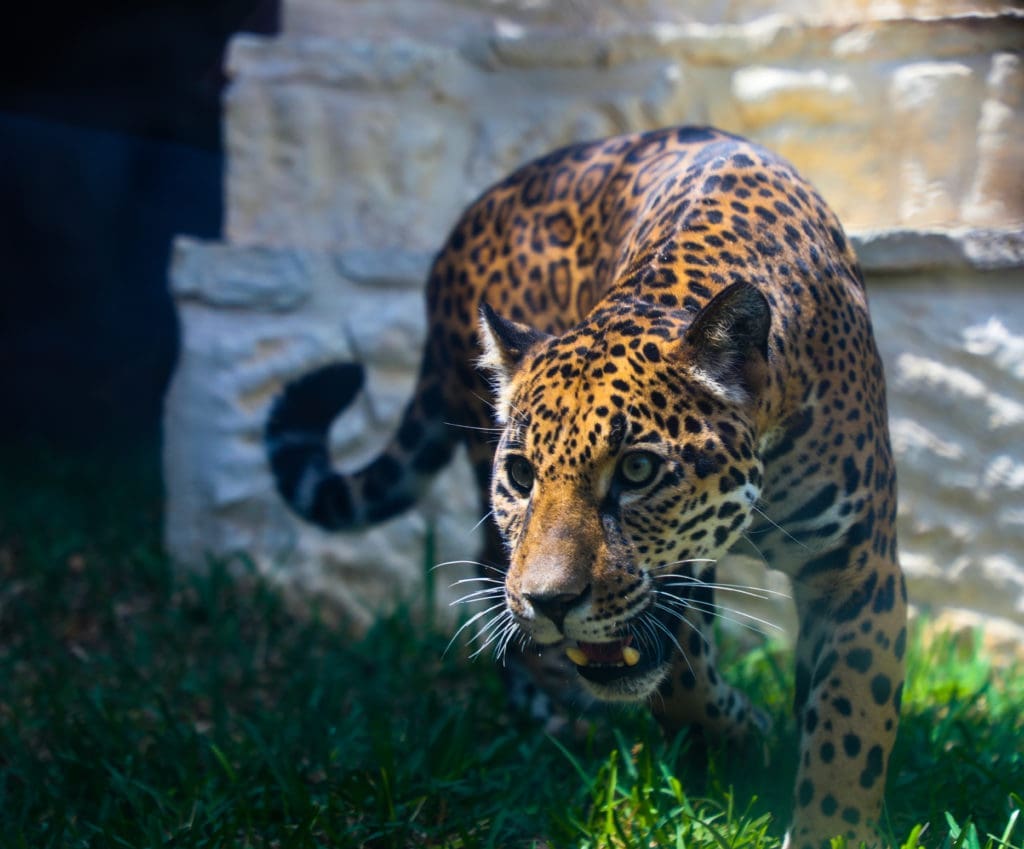 San Antonio Zoo welcomed a two-year-old female jaguar named Frida on Tuesday. Animal Care staff and zoo crew are incredibly excited to have Frida as a part of their San Antonio Zoo family. She is already getting to know her new home in NEOTROPICA as she explores the recently renovated and expanded habitat.
The new female jaguar will provide zoo guests with another opportunity to appreciate a near-threatened species at San Antonio Zoo. Frida was transferred from Memphis Zoo to San Antonio Zoo as part of the Association of Zoos & Aquarium's (AZA) Species Survival Plan (SSP) in hopes she will eventually breed with the zoo's male jaguar, B'alam.
Memphis Zoos Animal Care staff told us that she has a sweet demeanor and loves enrichment, especially if it involves water or scents like cinnamon and nutmeg.
"We are thrilled about Frida's arrival," said Tim Morrow, President & CEO of San Antonio Zoo. "We hope she loves her new home in NEOTROPICA with the recent addition of Pantera Walk (Presented by Texas A&M University-San Antonio). We encourage the community to visit and give her a personal welcome to San Antonio and the zoo. Fingers crossed that we have little jaguar cubs in our future."
The new jaguar's arrival comes just months after San Antonio Zoo completed the first of its kind jaguar skywalk, Pantera Walk (Presented By Texas A&M University-San Antonio). This truly zoo-nique catwalk provides the jaguars 120% more room to roam and mimics terrain options that closely match their native surroundings. In September 2016, the zoo welcomed a pair of Jaguar cubs to parents, Arizona and B'alam, the first Jaguar birth for the zoo since 1974. Arizona is making her way to Memphis Zoo as part of the SSP program.
Native to the tropical forests of Mexico, Central, and South America, jaguars are considered near threatened due to habitat loss. There are currently more than 100 jaguars in North American-accredited AZA zoos, while it is estimated that 10,000 jaguars currently reside in the wild. The historical range of jaguars used to be much broader and included the Southwestern United States, including Texas and even the San Antonio area.
According to AZA, the Species Survival Plan functions to maintain a healthy, genetically diverse, and demographically stable population for the long-term future. Each SSP Program manages the breeding of a select species or sub-species by collaborating with the AZA Population Management Center, Reproductive Management Center, Program Leaders, and Institutional Representatives from each participating institution to develop an SSP Breeding and Transfer Plan. There are currently around 500 SSP Programs within AZA.
San Antonio Zoo is proud to play an essential role in the worldwide conservation of jaguars and all animals. For more information on the zoo's role in conservation, please visit: https://sazoo.org/zoo-conservation-efforts/
About San Antonio Zoological Society
San Antonio Zoological Society was established in 1929 and is a nonprofit organization committed to securing a future for wildlife. The society operates San Antonio Zoo, Will Smith Zoo School, Edutainment, Center for Conservation and Research at San Antonio Zoo, and Kiddie Park.
Website www.sazoo.org
About San Antonio Zoo
San Antonio Zoo®, operating since 1914, is a nonprofit zoological facility committed to securing a future for wildlife. Through its passion and expertise in animal care, conservation, and education, the zoo's mission is to inspire its community to love, engage with, act for and protect animals and the places they live. The zoo welcomes more than a million visitors each year and is open year-round. San Antonio Zoo operates the largest nature based preschool in the country, Will Smith Zoo School, the Center for Conservation and Research, and Kiddie Park. San Antonio Zoo is accredited by the Association of Zoos and Aquariums, the Zoological Association of America, and Humane Certified by American Humane.
Website www.sazoo.org
Facebook www.facebook.com/SanAntonioZoo
Twitter www.twitter.com/SanAntonioZoo
Instagram www.instagram.com/SanAntonioZoo