(Family Features) Gathering for the big game is a source of annual excitement for fans across the country, but the moment is as much about connecting with family and friends as it is the action on the field. The superstar of the celebrations is often the food, from snacks and appetizers to full-blown meals and tasty sweets.
For a better-for-you way to grub out at gametime, this Healthy 7-Layer Taco Dip from Milk Means More features essential nutrients provided by yogurt so you can enjoy a football favorite that nourishes both the body and soul.
Find more game day recipes at MilkMeansMore.org.
Watch video to see how to make this recipe!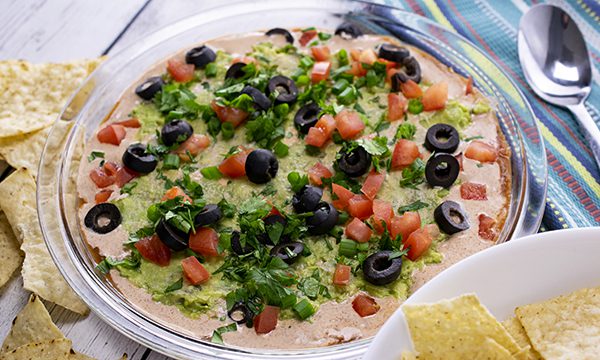 Healthy 7-Layer Taco Dip
Recipe courtesy of Liz Della Croce of "The Lemon Bowl" on behalf of Milk Means More
Prep time: 15 minutes
Servings: 12
1 can (15 ounces) fat-free, refried beans
1 cup salsa
2 cups plain Greek yogurt
1 tablespoon cumin
1 tablespoon smoked paprika
1 teaspoon salt, divided
1/4 teaspoon cayenne (optional)
2 avocados
1/2 cup cilantro, minced, divided
1 teaspoon garlic powder
1 lime, juice only
1/2 cup scallions, minced
2 Roma tomatoes, seeded and diced
1/4 cup black olives, sliced
tortilla chips
In small bowl, mix refried beans and salsa. Spread mixture in thin layer on bottom of large platter.
In separate small bowl, whisk yogurt, cumin, smoked paprika, 1/2 teaspoon salt and cayenne, if desired. Spread mixture on top of bean layer.
In third bowl, mash avocados with 1/4 cup cilantro, garlic powder, lime juice and remaining salt. Spread guacamole on top of yogurt layer.
Sprinkle dip with minced scallions, diced tomatoes, black olives and remaining cilantro. Serve with tortilla chips.


SOURCE: United Dairy Industry of Michigan
The post Bring Fans Together with a Big Game Dip appeared first on San Antonio Eats.
Source: https://sanantonioeats.com/2023/01/bring-fans-together-with-a-big-game-dip/