A WEEK OF MODERN, LIVING COMPOSERS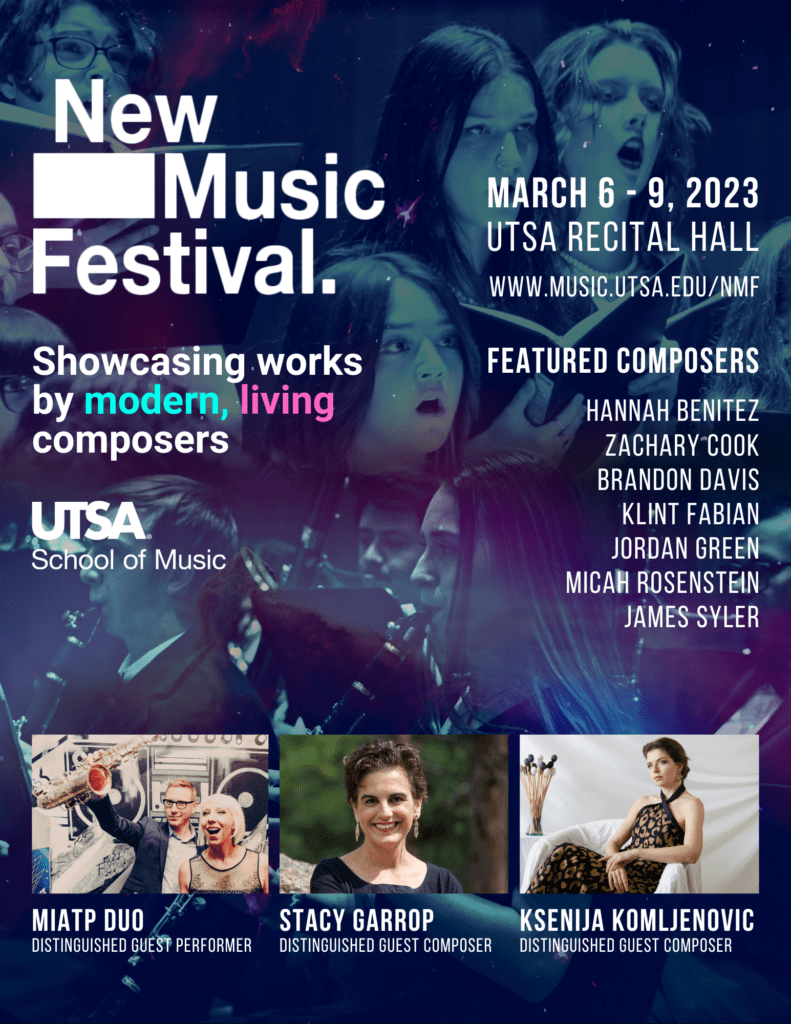 The modern classical guitar has long been a staple of romantic and classical music, being notable for its versatility and the depth of its tonality. With a lineage that extends as far back as to its Renaissance-era ancestors, it is immersed within its own world in the music realm. It is one that the UTSA School of Music will take a weekend-long dive into with its 3rd annual Southwest Guitar Symposium.
The music festival will be held March 10-12, 2023, featuring various classical guitar-related events. The Symposium is under the direction of its artistic director and UTSA classical guitar professor, Dr. Isaac Bustos.
The music festival will include performances from international artists such as Spanish guitar virtuosa Andrea Gonzalez-Caballero, Zohn-Li Guitar Duo, and Dr. Elliot Frank. They're joined by UTSA School of Music faculty with Duo Fortis, consisting of Dr. Bustos and Dr. Alejandro Montiel, and Dr. Jeong-Eun Lee on piano, who will all be performing together on the festival's opening Friday night.
"Our program for Friday night's concert includes a Nocturne by the 19th-century Italian composer Ferdinando Carulli (1770-1841), a fiery and virtuosic modern sonata by the young American composer, Joseph V. Williams II, titled "Grip", and we will close the concert with, our current favorite work, the Concierto Madrigal for two guitars by Spanish composer Joaquin Rodrigo," said Dr. Bustos. "The concerto is an iconic piece in guitar repertoire – a staple of beauty and virtuosity – that hardly ever gets played…"
Along with these performances, SWGS will also host its annual High School and Open-Division Solo Guitar Competition on Saturday, March 11th. These highly competitive contests feature some of the finest young classical guitarists in Texas and are open to public viewing. The top prizes at stake include several paid concerts, with one at Lone Star College and two at Austin Classical Guitar, as well as a custom guitar by Scafati Guitar for the Open-Division winner. The winners of both categories will also receive paid return performances at the next Guitar Symposium. Aytahn Benavi and Ben Johnson were the winners of the last year's 2022 SWGS Competition, so they'll also join the weekend's lineup of performing musicians.
Workshops and learning opportunities are another element of the Guitar Symposium's immersive experience every year. On Sunday, March 12th, a classical guitar technique masterclass will be held by Andrea Gonzalez-Caballero.
"I have attended festivals and competitions for decades as a competitor, student, guest artist, jury member, and now, as artistic director…I am always inspired by the sense of community and camaraderie, the opportunities created, and the friendships that are made," said Dr. Bustos.
"These events are so important to our communities in the musical, cultural and artistic enrichment that they provide…I am excited about the new friendships to be made and I look forward to welcoming everyone to this year's Southwest Guitar Symposium."
New Music Festival details here: https://saarts.com/event/new-music-festival/2023-03-06/
Southwest Guitar Symposium details here: https://saarts.com/event/southwest-guitar-symposium/2023-03-10/
The post Join the UTSA School of Music for the New Music Festival & Southwest Guitar Symposium appeared first on SA Arts.
Source: https://saarts.com/join-the-utsa-school-of-music-for-the-new-music-festival-a-week-of-modern-living-composers/